In the evening of November 18, at the Pedagogical University, Hue University, The Organization Committee of Thua Thien Hue Technical Innovation Competition held the 10th Ceremony of the Tenth Thua Thien Hue Technical Innovation Contest and Award Ceremony in 2020. Attending the Ceremony were Chairman of the Provincial People's Committee – Mr. Phan Ngoc Tho with provincial representative leaders of departments, branches and localities.
The Competition attracted 110 subjects registered participating in 6 fields of competition including: Information technology, electronics and telecommunications (10 subjects); mechanics and automation, construction, transportation, materials, chemicals, energy (14 topics); agriculture, forestry, fishery, environmental resources (31 topics); Medicine and pharmacy (22 topics); education and training and other fields (33 topics).       As a result, the Organizing Committee awarded 3 first prizes, 8 second prizes, 14 third prizes and 39 consolation prizes to the authors, the group of authors with the winning themes, awarded certificates of merit to 7 teams with excellent achievements. in the implementation and propaganda of the Contest.      64 topics of authors and groups of authors awarded by the Organizing Committee this year are highly qualified and applied in practice.      According to GS. Dr. Tran Huu Dang, Chairman of the Provincial Union of Science and Technology Associations, Head of the Organizing Committee of the Competition, said: The contest is organized annually to promote the movement of creative labor of the entire people in the field of science. – Engineering, promoting the effective application of technical solutions to production and life, contributing to socio-economic development, implementing national industrialization and modernization. Thereby honoring and recognizing the merits of science and technology staff, working classes, farmers, and creators who have useful technical solutions, initiatives or applied in the province. and bring high socio-economic efficiency.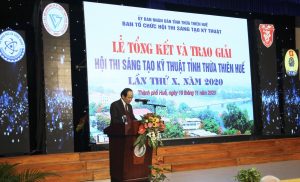 GS. Dr. Tran Huu Dang – Head of the contest organizers gave the opening speech
Speaking to congratulate scientists at the closing ceremony, Chairman of the Provincial People's Committee Phan Ngoc Tho acknowledged the merits of scientific staff, workers, peasants, and creators who have had technical solutions. Usefulness applies in the province; At the same time, he emphasized that with the strengths of the education system, health care, IT system, in recent years, Thua Thien Hue province has promoted the application of information technology, science and technology and brought many remarkable results. record. From here, it is confirmed that science and technology make an important contribution to development and driving force to boost the economy as well as to promote innovative start-ups. More and more businesses are interested in the application of science and technology, high technology in production, product development, and increase the competitiveness of products and goods.
Mr. Phan Ngoc Tho gave congratulation speech.
     Immediately after the closing and awarding Ceremony, the Organizing Committee launched the 11th Thua Thien Hue Technical Innovation Competition in 2021 and called for the participation and positive response from the units, organizations, and organizations. individuals inside and outside the province.