July 25, 2019, Gia Lai Union of Science and Technology Associations in collaboration with the People and Nature Center (Pan Nature), Vietnam Green Biodiversity Conservation Center (Green Viet ) and the Center for Social  Research and Development (CSRD) organized a workshop on Natural Resource Conservation in the Central Highlands: Practical experience, challenges and prospects for the future in PleiKu city, Gia Lai province.
The workshop was attended by nearly 70 representatives from local governments, related agencies, agencies, social organizations, forest owners, scientists, development projects and representatives communities of the 2 provinces are Gia Lai and Dak Lak. The project's activities are closely coordinated with management agencies and social organizations as well as communities of the two provinces. The objective of this workshop is to share the results and lessons from the models to promote community participation in natural resource management and protection in the Central Highlands, especially the two provinces of Dak Lak and Gia Lai, create a forum for communities, social organizations and management agencies to share ideas and recommendations on practices and policies for the Central Highlands provinces to get better management of natural resources in this area.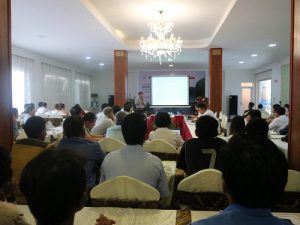 Prof. Dr. Nguyen Danh – Chairman of the Union of Science and Technology Associations in Gia Lai province delivered the opening speech.
The Central Highlands region is a region having high biodiversity, currently storing many ecological and cultural values. However, it is currently under increasing pressure from the process of socio-economic development as well as the level of local population growth and the migration process on environmental degradation, natural resources and climate change cause significant impacts. The environmental challenges of the Central Highlands have been identified and sought for solutions through programs and investment projects of the State as well as domestic and foreign organizations.
Ms. Pham Thi Dieu My – Director of CSRD presented the project implementation component on water resource management in Dak Lak province.
From 2017 up to now, the Water Resource Management Project funded by Oxfam is implemented by 03 units: the Center for People and Nature (Pan Nature), Vietnam Green Biodiversity Conservation Center (Green Viet) and Center for Social Research and Development (CSRD) implemented in Gia Lai and Dak Lak. In Gia Lai, the project aims to develop a coordination mechanism for forest management with the participation of people in the corridor area between Kon Ka Kinh National Park and Kon Chu Rang nature reserve. Meanwhile, in Dak Lak province, the project has strengthened the capacity and participation for fisheries associations in the Sre Pok River basin, established a water management co-management model in Lak Lake.
Despite many challenges and limitations, some models of natural resource protection with the participation of the community have initially proved effective, contributing to the preservation of forest ecosystems, sources of water and biodiversity.
LE HOANG GIA UYEN