TTH.VN – In recent days, there have been many individuals and organizations in the province producing portable whole-body disinfection rooms for the purpose of serving the community, contributing to preventing the spread of COVID-19.
Disinfection chamber has quite simple structure
Community of interest
Putting into use on March 19, the whole body disinfection chamber of Mr. Tran Minh Quang, (Phu The village, Phu Duong commune, Phu Vang) received the attention of many people.
Mr. Quang's wish is to join hands to prevent and combat COVID-19 epidemic, so the disinfection chamber he made is free for people to use.
Mr. Quang said, users only need to step into the chamber, the infrared sensor will activate the misting system. Internal booster pump will bring physiological saline (DD) solution (0.9% Sodium Chloride) through a full-automatic automatic nozzle in 6s.
Ms. Phan Thi Tog in Pho An village, Phu Duong commune rejoiced: "I heard that the device can disinfect the whole body so it is very reassuring. Every day I come here so I can use it often to kill bacteria ".
Quang has now installed 5 full-body disinfection chambers at medical checkpoints, isolation areas of the provincial Military Command and is preparing to install more.
In addition to the first room Mr. Quang made for free, the rest he called for support and partial help, with support from the province.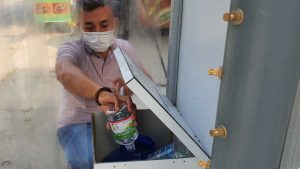 Use physiological saline to pour into the bottle to spray directly on people
In Huong Thuy town, Mr. Pham Phuoc Thang, in Group 6, Thuy Luong ward was the first to produce an auto-disinfection chamber automatically installed for communes and wards in the area.
Mr. Thang said that so far, he has installed 3 rooms for trial units and 15 orders are still preparing for installation and handover to localities in the near future.
With the purpose of helping the community in the epidemic stage, Mr. Thang's automatic full-body disinfection chamber costs about VND 6 million.
Regarding DD spray, Thang said he did not provide. "I advise the units using Cloramin B or DD Department of Health are using or produced by the College of Industry".
Mr. Le Viet Bac, Deputy Director of the Department of Health Information: in Hue, DD is currently used in disinfection chambers is 0.9% Sodium Chloride but how effective, how effective it must wait. Because "The scientific council is working on a final conclusion."
Recommendation
Throughout the country, over the past time, the whole-body disinfection chamber with the purpose of helping the community to prevent the spread of COVID-19 was also produced by many organizations and individuals, located in many public places for free to people. people.
According to Assoc.Prof. Dr. Tran Dinh Binh, Deputy Head of Microbiology Department, Head of the Infection Control Department, Director of the Gamma Center Hospital of Hue University of Medicine and Pharmacy, if using 0.9% physiological saline, the maximum solution is Its advantage is the electrochemical method.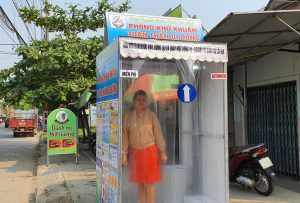 Many people have been eager to have their whole body disinfected last time
In the chamber, there must be an electric processing system and electrodes to convert DD into ion. The new ions have an oxidizing effect to eliminate microorganisms
"As such, its ability to disinfect surfaces is weak or basically unavailable. Despite electrochemical, but time 6-30s is not timely impact. Using sodium chloride to disinfect the whole body is a misunderstanding about the professional impact, "Mr. Binh said.
When asked if it could be replaced with another solution, the Chief of Infection Control Department said it could be 10% hydrogen peroxide or silver nano. "Those are things that are safe for the body."
"But if you use silver Nano, you have to have medical dispensers and other means of use, not the existing sterilization chamber. So hard to fit the community. On the other hand, Nano silver is very expensive and use it for 30 seconds, the basic effect is not available.
With hydrogen peroxide, due to the rapid decomposition time in sunlight, it takes only a few minutes to lose its effect.
Cloramin B is absolutely not used to spray directly on the human body because it is very toxic. Only used for surfaces, tools, vehicles and requires a certain concentration, for a long time, "Mr. Binh noted.
According to the Head of the Department of Infection Control, in advanced countries, nobody is using a whole body disinfection chamber in better conditions. "Because it creates the risk of community infection, the feeling of artificial safety to others and technically speaking is not effective," Assoc. Prof. Dr. Tran Dinh Binh said.
Do not use:
On March 26, the Ministry of Health warned that organizations and individuals should not use mobile body disinfection chambers to prevent COVID-19 due to insufficient documentation and need to be assessed for effectiveness. antivirus and safe for users.
LE HOANG GIA UYEN